Zack Snyder, after boring us to death with Batman vs Superman, returns this time, with an aim which looks like is to entertain the audience, which, traditionally has been a strong suit for Marvel movies.
Superman is dead and the world is falling apart. Batman is old now but he wants to assemble a team which can help save the world and he's also willing to die for the bigger cause. Wonder Woman is already eager to save the world, Flash just wants to be around friends, Aquaman and Cyborg join this illustrious team.
Sadly, we got to witness everything in the trailer itself which took away the WOW factor.
The good part about the movie is that it has a plot. A very grim and light plot but a plot nonetheless. Ben Affleck is starting to resemble more like the Batman. He doesn't get much acting to do and showcase a range of emotions but still, it's Batman-ish enough.
Ezra Miller (Flash) is in the movie to be the fun element. He's young, vibrant and very eager to be part of the group.
Jason Momoa (Aquaman) and Ray Fisher (Cyborg) don't have a very big role, they just have a job, which they perform, to the best of their abilities (So much for being Superheroes).
Gal Godot is hands down the best thing about the movie. If you think about it, she was the best thing about Batman vs Superman as well. She's feisty and ready to fight and also lead the group. Every frame she is in, she shines!
The movie never tried really hard to be different or even darker than the other superhero movies. It seems that Zack got the brief to make the movie lighter, cooler, funnier and have a universal acceptance. All this is fine but then you lose the USP of your franchise and the character consistency is lost. Marvel did the same with its last movie, Thor Ragnarok. Thor and Hulk tried too hard to be funny, cracked lame jokes and everytime they did that, I just wanted to scream, "YOU'RE A GOD, FOR FUCKS SAKE. STOP CRACKING LAME JOKES".
Another important factor in any Superhero movie is the Villian. Justice League lacks that too. Steppenwolf and his Parademons are just not threatening enough and hardly put up an opposition to the newly assembled team.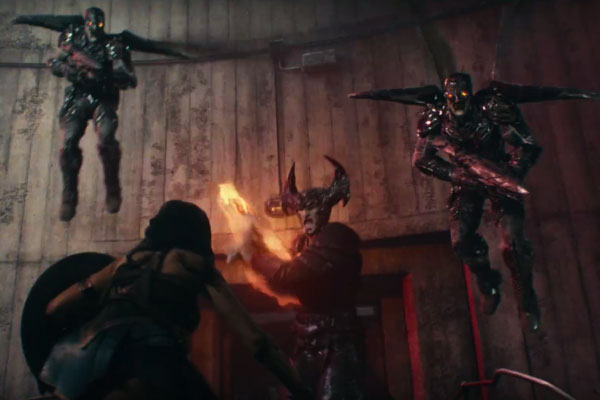 Thanks to the overkill of the genre this year, I have seen enough Supermovies and don't mind a movie which just entertains me but as a movie nerd or a franchise loyalist, you are bound to be disappointed. I enjoyed watching the movie but a few months down the line, I might not even remember watching it. This is where Logan stood out, it was hard hitting and did what no other superhero movie was able to do, it made me cry.
Justice League, unfortunately, is a mediocre but fun movie at best.
2.5 stars